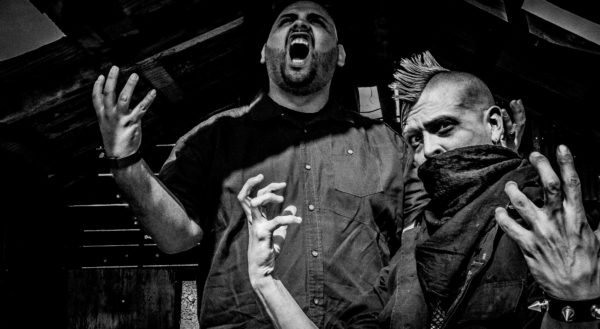 Acid Enema is a band that emerged from the desert wastelands of Nevada. Abhorrent, the creator of Acid Enema, has produced a variety of musical projects throughout the years including Acid Enema. Until 2014, Acid Enema had been on hiatus until Abhorrent met his fellow bandmate and collaborator Noth. With this meeting of minds and talents Acid Enema's new era was born.
The band's sound is a mix of black metal, hardcore techno, and speedcore. They describe themselves as "blackened speedcore." Acid Enema stays true to their blackened speedcore form in their newest album Misanthropic Visions.
Misanthropic Visions was released December 2015 and has been making waves in the Nevada and California music scenes ever since. This new album features Abhorrent on vocals and programming, and Noth on guitars and bass.
Like a bullet to the brain, the first track on Misanthropic Visions,  "Hymn from the Godless," hits you with a wall of rhythmic static sound.  With a creepy sample intro that states, "We came to wreck everything and ruin your life…" the listener is introduced to the aural dreadful delights that are to come over the next hour.
"Evisceratring God" has a driving drum, and gabber-ish rhythm, with slightly deadened screaming in the background. A fun song to get your stomp on to.
"To Live Means Nothing" is a guitar driven track with more of  Acid Enema's passionate black metal screams.
"Holocaust Remix" begins as a more subdued track then hits you with a machine gun barrage of drums. Short, fast and ferociously furious.
"Hurt Me 2015" a plea for mercy and tutored screams followed by a rhythmic gabber drum cadence to your death.
The title track,"Misanthropic Visions," starts with guitar riffs of impending doom followed by a classic peedcore rhythm and black metal screams. Chunky and stompy.
"Bro Hymn (Pennywise Cover)" is a fun speedcore cover for those nights when you need something a bit faster than your classic punk track.
I always love a good remix.Tracks 8-16 on the Misanthropic Visions cd, gives you an even more speedcore and distortion filled reworking of the songs.  This compilation features remixes by Novokain, Tragedies from Hell, Black Death, Rustryu, Not Half, STK, and the band's own Noth 1001.
The final track on the album is a remix of "To Live Means Nothing." It is a more ambient track remixed by Noth and features vocals by Jazzy Fae. It's a great ending track that eases you down from the delirious harshness that proceeded it.
Misanthropic Visions is an aural assault on your senses and your soul and you will love it. This mashup of genres is unique and a brutal pleasure to listen to. The collaboration between Abhorrent and Noth brings a harsh, rhythmic sound that's both cerebral and pulses through your body. You will have a hard time staying still while listening to this album.
Misanthropic Visions can be purchased as a digital file, cd, or a cassette tape that has an exclusive rehearsal track on it's b-side. You can find out more information about the band and purchase their albums at acidenema.bandcamp.com and www.acidenema.com.