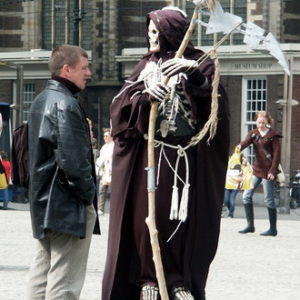 It's the most wonderful time of year. The days bring longer stretches of darkness, the air is cooler to the senses, and the skies are all a-gloom as the harvest looms! It is the only true season of the meek and weary of the world. One could say it is the only time when goths are truly en vogue.
The time has come too for the glorious sights of pop-up stores with Halloween décor for us to hoard to our delight and for costume shops to peruse beyond the lights! While there is naught but a fool to implore the many doors of each and every sight, therein lies below our ten-most list of all the finest for the glittering children of the night:
* Note: With the exception of our #10 contender, we tried to stick to stores only within the city of Chicago that were accessible by public transit.
10. Scary Perrys (Norridge)
7304 W. Irving Park Rd. Norridge, IL • 11:00am to 8:00pm
This is a family owned Halloween store in the suburbs and on the 15thof October, there will also be a haunted house! They have an excellent collection of costumes, make-up, and masks available along with the satisfaction of supporting a local business with your spooky loot!
9. Halloween Hallway
332 S. Michigan / 900 S. Wabash / 325 W. Chicago Ave. / 1355 N. Milwaukee / 2634 N. Milwaukee / 2801 N. Broadway / 1831 W. Montrose • 11:00am to 9:00pm
This is the most recognizable pop-up Halloween store in the city. This year, Halloween Hallway boasts seven stores in the city alone! There are even more stores scattered throughout the surrounding suburbs so there isn't a chance you could miss one no matter what neighborhood you're in.
8. Hollywood Mirror
812 W. Belmont • 11:00am to 8:00pm, Sundays 11:00 to 6:30pm
This fun little shop is located directly next to the Ragstock in Lakeview. It carries a yearlong selection of vintage (but pricey!) clothing, toys, and accessories. This is the ideal spot to accessorize your costumes or your life for any party and event.
7. Ragstock
812 W. Belmont / 1459 N. Milwaukee • 10:00am to 9:00pm, Sundays 12:00 to 8:00pm
This is a used, vintage, and consignment store that is open year-round with two locations in the city. No matter which location you're in, it is like rummaging through someone's closet, so be prepared! It's a great place to find clothing to piece together a costume of your own creation or find a decent uniform outside of the army surplus store.
6. Halloween City
3134 N. Clark • 10:00am to 9:00pm, Sundays until 8:00pm
This is a Halloween pop-up store in the city, replete with cauldrons in which to carry your fanciful wares about the store. The store is clean but vast and carries party-sized options for gore and fright. The costume options are plenty here but they are all pre-packaged ideas from every corner of popular culture. It is located ironically in what used to be the Sports Authority, a Sisters' song away from the Belmont train; just south of the old Punkin'
Donuts which is now a monstrous girth of constructional vomit between Boystown and Lakeview. It is across the street from Michael's, in case there is a need for crafting and Ragstock, a block up in case your trip requires more options for your last-minute needs.
5. Beatnix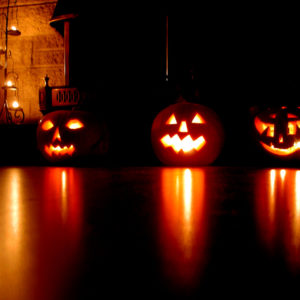 3400 N. Halsted • 10:00am to 12:00am
This is easily the best place in the city to find a wig, eyelashes, or costume jewelry and flowers for your hair! They're open year-round and they have the best staff with the most reasonable prices. There really isn't a friendlier and cozier spot to peruse the used or new costumes up until the midnight hour.
4. Broadway Costumes
1100 W. Cermak • 11:00am to 4:00pm, Closed on Saturdays and Sundays
This little jewel in the South is the oldest of the many Chicago haunts, offering costume rental and sales as early as the late 19th century. Since the summer of 1999, Broadway Costumes has been in a 30,000 sq. ft. space in Pilsen, dressing actors in theaters and operas all across the city and country. All of their non-show rentals can be seen on their website, along with order forms and rates. The shop itself is only open on weekdays however, and time is extremely limited.
3. Lost Eras Costume and Prop
1511 W. Howard • 10:00am to 6:00pm, Closed on Sundays
In the vein of weird, this is great hidden jewel of the North! For over three decades, this eccentric shop of antiques, costumes and vintage anything continues to be run locally by the third generation of the family. Here you can become lost in the haze of history and imagination. You can bargain, rent, by, or sell anything. It's sure to be an adventure for anyone or if anything, be inspired for your next costume idea!
2. Fantasy Costumes
4065 N. Milwaukee • 9:30am to 11:00pm, Sundays 11:00 to 7:00pm
(Open 24-HOURS from October 21st to 31st!!)
This block-long mall of costumes has the largest selection in the city for rental and purchase and has been around since 1965! At 30,000 sq. ft. of available madness, it's easy to overlook many details. It's best to make sure you check your costumes or props before purchase here because the return policy is tricky! Otherwise, this is place to make up your mind on what disguise you may or may not ever want to wear at any time of year.
1. Chicago Costume
1120 W. Fullerton / 4727 W. Montrose • 9:00am-8:00pm, Sundays until 6:00pm (Seasonal stores: 1800 W. Fullerton / 936 W. Roscoe / 1305 S. Halsted) This family run company is by far, the BEST place in the city to rent or purchase a costume at any time throughout the year. They can customize anything for you with enough notice. It is truly Halloween every day here, along with the helpful service, quality, and details, it is our #1 pick. Not only is this ideal for costumes but it is the best in theatrical make-up, masks, and props too! As noted above, Chicago Costume now boasts pop-up stores in Wrigleyville, Riverpoint Plaza, and UIC Campus as the season peaks demand. To further capitalize on their superiority and dedication to the art (and joy!) of All Hallows Eve, Chicago Costume also hosts an annual fashion show two weeks from the Halloween. This year's theme is "Anti-Hero" and it is on October 13th at Bottom Lounge.