Dr. Seward's Dracula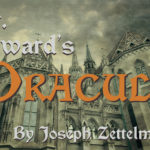 First Folio Theatre    http://firstfolio.org/?production=dr-sewards-dracula
Picking up where Bram Stoker's tale ends, DR. SEWARD'S DRACULA follows Seward as he tries to explain multiple dead bodies to the police now that Dracula is dead. The more Seward tries to plead his case, the less sure he becomes not just of his own tale, but also of his own sanity.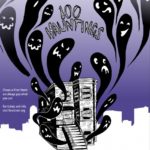 100 Hauntings Oct 20 – Dec 2, 2016
Free Street    http://freestreet.org/currentseason
An elevator operator named Jorge doesn't know he's dead. A passive aggressive ghost defends his territory at the corner of Division and Western. A mysterious pattern of redlined maps chokes the city into decades-long segregation. In 100 Hauntings, created by an intergenerational ensemble of performers, comedians, writers and community organizers, Free Street asks: Who-and what- is haunting Chicago? To create the performance, the ensemble facilitated over a dozen story circles in communities ranging from Englewood to Humboldt Park, asking hundreds of Chicagoans to share their personal experiences with the notion of hauntings, both literal and metaphorical.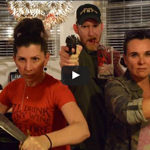 Zombie Broads Oct 14 – Nov 26, 2016
Factory Theater  http://thefactorytheater.com/portfolio/zombie-broads/
Maxine and Marco, and their book club 'The Zombie Broads', have all the weaponry and knowledge they'll ever need for the zombie uprising. Their daughter, Shelby, is trained for the worst, but would really like to just get a cell phone and date her secret boyfriend. Besides, zombies won't happen. It's not like a scientist is accidentally gonna do anything stupid, right? By the way, you smell really good…delicious even…you should probably run.
Death Toll: A Halloween Drinking Game Performance Oct 14 – Oct 31, 2016
Cornservatory    http://www.cornservatory.org/death-toll
This Halloween, Corn Productions is delivering a lethal dose of sketch comedy with Death Toll: A Halloween Drinking Game Performance. Grab your BYO-BOO-oze of choice and join us in our long-running, wildly popular, late-night Halloween sketch show that centers around one very simple drinking game rule: drink every time someone on-stage dies. Trust us… the death toll reaches ghoulish proportions!
Nightmares On Lincoln Ave 8: The Faculty's Disturbing Craft
Cornservatory    http://www.cornservatory.org/nightmares-on-lincoln-ave
This Halloween season, Corn Productions pays the ultimate homage to classic 90's high school horror films with their frightening premiere of Nightmares On Lincoln Ave 8: The Faculty's Disturbing Craft. A horror parody tribute to such iconic films as The Faculty, Disturbing Behavior and of course The Craft, Corn Productions takes you back to school in their 8th installment of their long-running Halloween tradition. And Corn is BYOB, so you can totally drink during class!
10 Ways to Survive the Zombie Apocalypse
Theatre Hikes at Morton Arboretum    http://www.theatre-hikes.org/Zombies.html
What would you do during a zombie apocalypse? It is the end of the world and gangs of brain-eating Zombies are about to kill you. What do you do? Turn to this hilariously helpful handbook to survive the apocalypse. (Hint: Sacrifice the weak is step number 1). Get ready to celebrate the Halloween season and learn some frightfully fun lessons at The Morton Arboretum.
EL Stories – Hell Stories
Waltzing Mechanics at The Greenhouse Theater Center   http://www.greenhousetheater.org/hell-stories-el-stories-26
Join Waltzing Mechanics for a terrifying trip on the CTA with Chicago's most peculiar and intimidating characters- witches, giants, stalkers, creepy crawlers and more. We are sharing death-defying tales that will surely keep the audience at the edge of their seats (and likely result in ordering an Uber home).
The Medium
Royal George Theatre    http://theroyalgeorgetheatre.com/shows.php
Gian Carlo Menotti's chamber opera – The Medium. With both music and libretto by the Italian-born American composer Gian Carlo Menotti, the short two-act, one hour dramatic opera centers on Madame Flora, a phony spiritualist who conducts séances in her flat with the help of her daughter and a deaf-mute orphan boy she took in off the streets of Budapest. Madame Flora cons grieving parents into believing that they are communicating with the spirits of their dead children in order to scam money. Unfortunately, at one séance Madame Flora actually opens up the portal of the dead and the events that follow are tragic..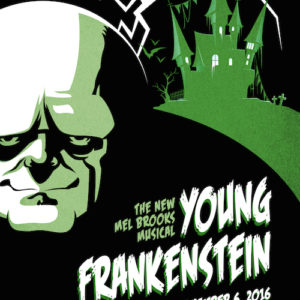 Young Frankenstein
Metropolis Performing Arts Centre http://tickets.metropolisarts.com/shows/young%20frankenstein/events
Comedic genius Mel Brooks' hit movie comes to life in this mad-cap musical. Frederick Frankenstein distances himself from his family legacy but a call to settle his inherited estate in Transylvania brings him closer to the ancestors famous for bringing the dead back to life. With the help of a hunchbacked side-kick, Igor (pronounced Eye-Gore) and a voluptuous lab assistant, Inga, Frederick finds himself swept into the mad scientist shoes of his grandfather. This raucous musical comedy hit is filled with memorable songs like Transylvania Mania and Puttin' On The Ritz.
Ghost Stories
Under The Gun Theater    http://www.underthegun.theater/shows/2016/10/15/serial-killer-stories
Under the Gun Theater is proud to present Ghost Stories, an improvised comedy show based on true spooky tales. Each performance will feature a guest storyteller to spin a scary yarn. From there, the UTG ensemble will launch into a show of highly creative comedic whimsy. The cast has honed an idiosyncratic style that is completely unique in the Chicago comedy scene.
Samhain 2016 Ritual and Performance
Dfbrl8r Gallery    http://dfbrl8r.org/event/samhain-2016
"A three-day celebration of performances, rituals, experiences and installations. The main performances & installations will be 5 to 9pm each evening, Oct 30-Nov 1st."