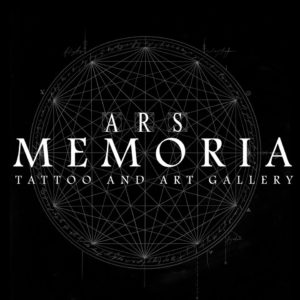 Chicago has been ordained with a new gothic collective. On May 6th, ARS Memoria Gallery opened its wings to the masses. Menton Matthews III, along with his wife, Catherine Matthews, teamed up with London's own Michael Knight to form a nest of artist, both hand picked locally and from Instagram. Catherine describes the space as 'a church to art,' which she has accomplished.
Upon entering the gallery, warmly welcoming you is Catherine, a steeple of beauty, elevated by studded, spiked stilettos. When the doors open a massive window baptizes you in sun or stars depending on the time of your vigil. On the right hand side is a smartly designed tattoo parlor where artists designs can be taken with you to your grave. On the left is the grey vault room that houses the collection art personally selected by Catherine.
The Red show is currently hanging from the walls. Karen Jerzyk is one of many that occupies the gallery, as well as my mind. She (Karen) started by creating her world over in a life size room she built in her basement. She created her colors not in the key board of photoshop, but by brushing paint on her subjects, creating eerie pastels.She had posed people in decaying buildings in which she was once arrested. The image in the Red Show is from under the greenish tinge of a pond. A ghostly white glow with her limbs wrapped around a submerged log releases the last bubbles of life upwards as bright red flows down from her mouth.
Stanislav is another exceptional artist. His contribution, "Priest" is formed by one directional red pen scrawls. Stanislav himself suffers from cerebral palsy. and his art acts as conduit to overcome the struggles.
Menton Matthews III, or better known as Menton III, is not only a partner in the gallery but also an artist on the rise. The oil on canvas of Menton's "Blatta" is a clawed beauty of darkness. Whips of white hair caress her body and looking poised for a hunt as her doubled wings are opened to soar.
Catherine states that it is important you buy art you love. ARS Memoria embraces artists by their art and not by who they are. Ben Lehwald has never shown before and both his pieces have sold. As a matter fact I saw many red dots which is a reflection on the quality and price the gallery sets. The gallery has began to form a collective of sorts they express reflects the likes of The Impressionists or Wax Trax.
Upcoming shows not to be missed are Ascension in November that will showcase Stanislav and Karen Jerzyk. Chrysalis in December brings together Damien Echols, Lori Davis and Erica Flannes. So, take a ride on the elevator to the 5th floor and meet the artist Matthew Degen, who also is the gallery assistant who can introduce you to your next memory.
ARS Memoria
1770 W. Berteau Ave
Suite 506
Chicago, IL