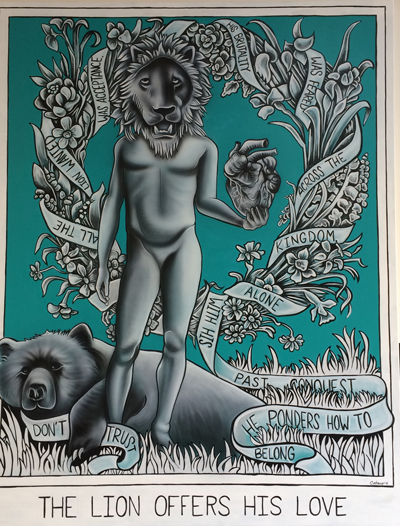 Obverse Gallery will host a collection of artists on October 23

rd

that will resurrect the original meaning of Halloween.

Owner Carrie Ahaus from performing arts at Savanna Arts and Design is proud to represent gallery full of masks. She started in Chicago as a scenic painter at Redmoon Gallery and has now moved onto Blue Man Group. This is where
she has met Alla Yanovsk.

Alla studied at the Atlanta College of Art and currently works as a painter at Blue Man Group. Alla grew up in the countryside of Russia where as a child she had come face to face grizzly Siberian bears. Those woodland encounters she describes as the real Halloween. It's meant to be scary and your costume is supposed to be made from your home. This exhibit will have her influences of the old world pagan forest. You don't have to go over the river on through the woods as her works will be ready for your disguise at Obverse Gallery.

Other artist slated to have masks are Andrea Jablonski and Amy Gard. Opening is 2-7pm followed by music for the soul.
Obverse Gallery
1434 N. Western Ave
cahaus@gmail.com
obversegallery.com
Sun-Mon 2-8 or by appointment