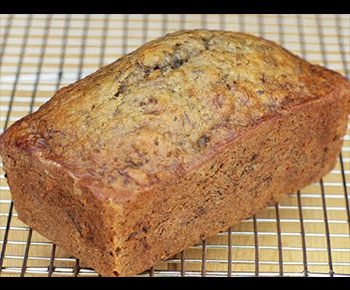 Ingredients:
3 very ripe bananas, mashed well
1/2 cup brown sugar
1/2 cups white sugar
1/2 cup vegan margarine (room temperature)
1/4 cup vanilla soy milk, mixed with 1 teaspoon apple cider vinegar
2 cups flour
1/2 teaspoon baking soda
1 teaspoon vanilla extract
1 teaspoon cinnamon
1/4 teaspoon nutmeg
1/2 teaspoon salt
Directions:
Preheat oven to 350 F. Spray a 8×4 bread pan or a 12 piece muffin tray
with non stick cooking spray, or lightly coat with margarine.
With a hand mixer, cream together the bananas, margarine and sugars in
a mixing bowl. Next add the soy milk/apple cider vinegar mixture and
vanilla extract and mix together well with a wooden spoon.
Sift the flour, baking soda, salt and spices together into the mixed
wet ingredients.
Mix well. Pour batter into pan. Bake for 45 minutes (for loaf pan) or
25 minutes (for muffin tray.) Test that bread is fully baked by
inserting a toothpick in the middle and making sure it comes out
"clean." Top of bread should be light golden brown.
This ends up a bit more cake-like than bread-like and it's just wonderful!