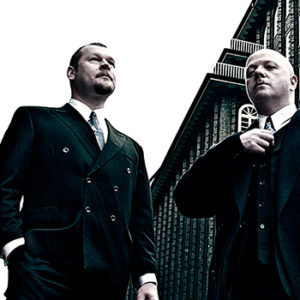 VNV Nation has been noticeably absent from our venues here for far too long. This time was spent on releasing the hauntingly beautiful orchestral renditions of select songs from their repertoire. Now, the Irish/British duo is back on the road making a memorable return in celebration of their 20th anniversary. Each event will consist of a 3 hour performance and a unique setlist covering 20 years of music along with special guests and newly released Compendium boxsets.
VNV Nation is hardly in need of an introduction. From Praise the Fallen to Transnational, they have captivated the hearts and minds of many on a journey through darkness, light and all the subtle spaces in between. Existential realities, questions, the traversing of a range of emotions and thoughts – what it is to be a human being – this is the sort of musing that presses upon those inner latent forces that connect us to our essence and inspire with a sense of truth, strength and hope. There is always a palpable overflow of emotion during VNV Nation's dynamic performances that engage the audience and demand participation. Their music creates an openness that so many readily share with wonder. Music has the ability to move something deeper in our natures and VNV Nation tangibly delivers.
VNV Nation performed at the Metro in Chicago on Sunday, October 23rd.